I decided to make a page for all the cool toys, gizmo's, fun places etc that I find out about.  I have other close friends who also do Daycare from home and they recommend various products and places to visit to me.  If I feel that something is worthy of advertising, I definitely will. 
I already have my first products. Here they are.
Bilibo is a companion for children from the first year onward and inspires a wide variety of playing behaviours.
Bilibo is a new kind of toy – the elementary shells leave room for the child's imagination. Instead of imposing a specific play pattern, Bilibo is open for a wide range of interpretations and encourages children to invent their own games, to play and have fun in an active and creative way. Indoors and outdoors, in the sand-pit, in the water or even in the snow – Bilibo is full of surprises...
Bilibo is designed for children of different ages. While sitting comfortably in the shells, arms and legs remain outside touching the ground and thus help control movement and keep balance. The egg-like shape provides for great stability; the shells can even easily carry the weight of an adult and are virtually unbreakable.
Bilibo is 100% recyclable!

Dimensions:
39 cm x 39 cm x 22 cm
15'' x 15'' x 9''
Materials:
High-density polyethylene resistant to shock even at low temperatures, non-toxic, UV-resistant

Price: $34.00 CDN
2. A PLASMACAR-
www.plasmacar.com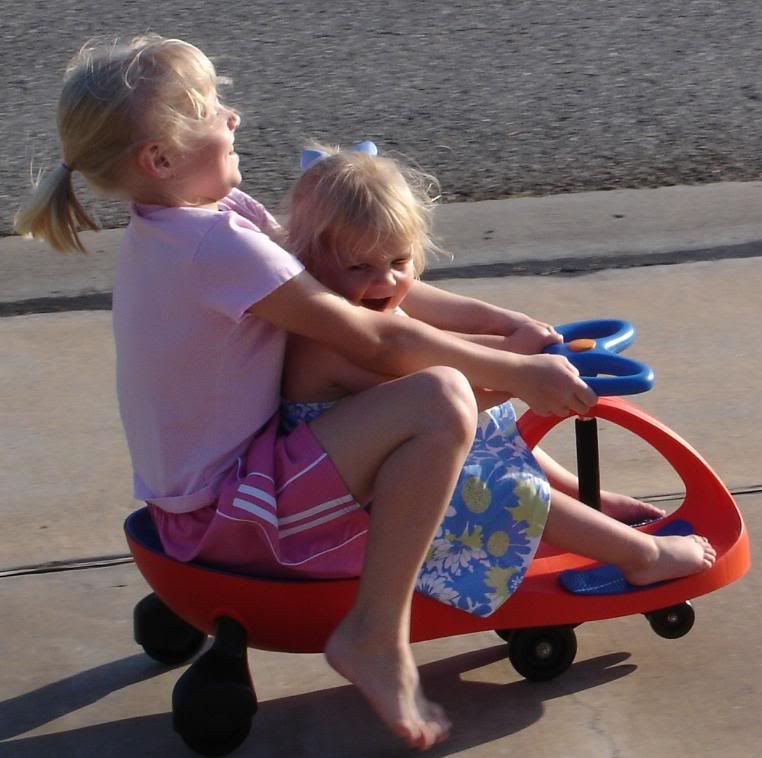 We do have 1 of these in Red, but it has been so popular with the kids, we have hopes in getting another soon for summer.
Like all PlaSmart products, the PlasmaCar is built to last: it's made from state-of-the-art, high-quality ABS plastics, rugged and durable for kids on the go. It's deceptively simple, too, both to look at and to operate. It sports six wheels, a seat, footrests, and a steering wheel. That's it. There are no pedals. No gears. And best of all-batteries are not required.
The PlasmaCar comes in variety of colors like blue, green, purple, pink, and red, guaranteed to fit any active kid's colour-scheme. Kids will like its looks because it's vivid, sleek and aerodynamic, just like a race car. They'll love how fast it can go, and will delight in racing PlasmaCars with their friends (with adult supervision, of course).
Here's how it works:
To propel the PlasmaCar, you rotate the steering wheel continuously from left to right. It also works in reverse. To zoom backwards, just switch the set of four front wheels around so that the larger ones are closest to the front of the car. To stop your PlasmaCar, just cease rotating the steering wheel and, when the car slows, put your feet on the ground to bring it to a full stop-easy as pie. Think of it as a Segway for kids. The PlasmaCar can go an exhilarating but kid-safe 2.8 meters per second; that's over 10 km/h. Kids feel the need for speed-and this toy will give them exactly what they need!
Dimensions:
31" L x 12" W x 12" H
Shipping weight: 8.5 lbs
Price: $69.00 CDN